2005 Scion tC "Gojira"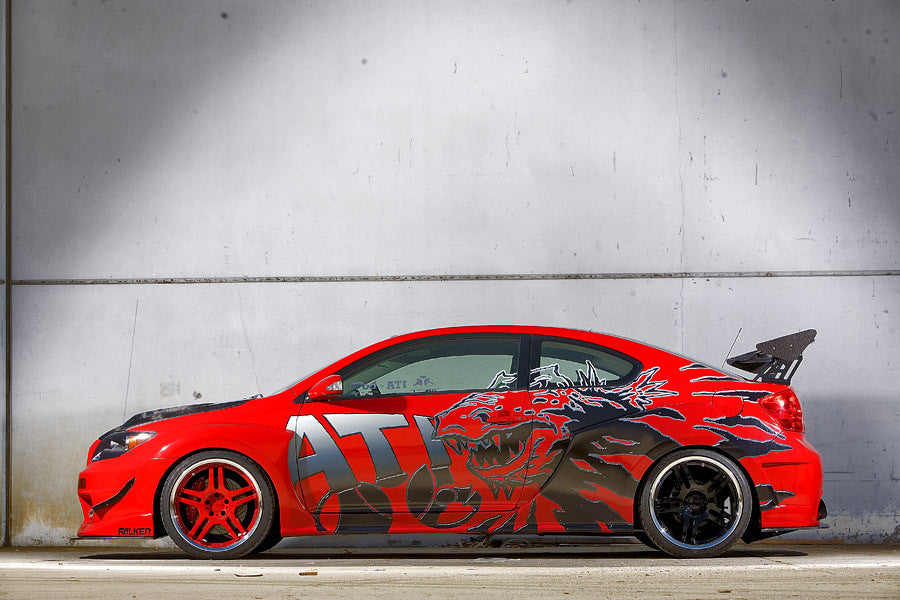 It's no secret that many of us in the spocom scene are obsessed with all things Japanese. Whether it's their cars, their women or anything in between, some of us have a not-so-secret Japanese fetish. Some of these fetishes are weird enough that we'd rather not share them, just in case Grandma is reading. You know what I'm talking about. Equally strange is Japan's obsession with American style. Like the adage goes, "the grass is always greener" I guess. Speaking of which, unless you've been to Japan you probably aren't aware of just how much of a craze the Scion tC has generated in Japan. You see, in Japan, coupes aren't very popular. In fact, the tC doesn't even exist in Japan. So the hardcore USDM lovers in Japan are coo coo for the tC and are even trying to import them into Japan, just like many of us here Stateside covet the Nissan Skyline and are always looking for loopholes that'll allow us to bring a R34 across the big pond.
When Calvin Eng, President of Auto-Tech Interiors, first got hold of his 2005 Scion tC Special Release version, he wanted to build it in a way that would not only make American enthusiasts aspire to build something similar, but also to strike envy in the hearts of all those USDM-obsessed Japanese enthusiasts who dream of owning a tC. And so like an illustrator at Marvel working on a Godzilla comic book, Eng hit the drawing board in order to dream up how best to build this tC to help market Auto-Tech Interiors and inspire some serious cross-Pacific envy.
Once the vehicle was in his possession, Eng contacted the best of the best, to see who would be interested in a project of this magnitude. "The first thing I needed to address was finding someone to spearhead the work, someone capable of custom fabrication and motor work. Dynamic Autosports, of Lake Forest, CA was an easy choice since we had a close working relationship from our early years. Dynamic also had all the resources needed for this type of project."
Knowing that the car would be twin-charged, Eng wanted to match the aggressive personality and raw power he expected from this project with equally aggressive styling. ATI Racing was proud to provide a carbon fiber wide body kit for the Scion tC. The widebody completely converted the lines of the mild Scion tC to a broad shouldered beast. The tC fully equipped with the ATI Racing carbon fiber wide body had taken its own form, yet Eng wanted more. "I wanted the whole package, not just a really cool twin charge system with a great body kit, but a car that really had its own personality."
For this, Eng went straight to the top, searching out famed Hollywood car designer Fireball Tim, who's credits include designs for Universal Studios such as the film 'Gone in 60 Seconds'. According to Fireball Tim, "Calvin from ATI came to me, wanting to create a unique theme. So, I tried to have a bit of the car, its owner, and its purpose in mind when I blow out a concept. We both are big movie fans and we wanted to create something fierce. Something that would stomp the competition. Big, fire-breathing and scary!"
After spending a number weeks contemplating the theme, Eng notice the car reminded him a bit of Godzilla and Fireball Tim urged him to go with his gut. "The idea seemed perfect! Keeping in the JDM fashion, the tC adopted the Japanese version of the name, "Gojira", Eng said. So now that the car had adopted its own theme and its own look, Eng finished off the exterior with an APR Racing carbon fiber wing that flowed with the rest of the chassis.
Then the fun really began. Research and development started for the twin charge system and Eng was excited to have everyone on board. TRD started by providing the supercharger system, and they were extremely interested in seeing the results of the build. The car headed on over to Dynamic Autosports where they would take the lead. "The TRD supercharger was fantastic! I had the chance to drive it for a few weeks and it was much more responsive. It was a great improvement" said Eng. The next step was selecting the proper turbo for the twin charge system. Not wanting to go too big Eng ended with a HKS GT40 turbocharger.
"Dynamic Autosports than started by fabricating the custom manifold for the turbo application, which I knew wouldn't be easy." stated Eng. "I watched pretty closely as the guys worked, measured, cut, welded, and pretty much sweat profusely as they built the heart of the twin charge system." Dynamic Autosports then continued with the one-off production with a custom downpipe and dual exhaust with twin HKS titanium carbon mufflers. Providing extreme cooling for the twin-charged 2.4L is an HKS intercooler with custom piping and end tanks for this unconventional application.
From there however, the project ran into a whole new world of problems. "Since the tC was drive-by-wire, we needed to source a method of engine management. Hydra came through by providing the first prototype drive-by-wire ECU. This meant lots of challenges ahead of us and after over a month of tuning, we weren't able to get the engine running like we wanted. Eventually Hydra concluded there was a corrupted file in the programming. They quickly replaced the unit and bam ... things seemed to work perfectly." Eng also wanted to mention that without the support of TRD, who supplied them with the critical diagnostics needed to work with Hydra, the first drive-by-wire EMS for the tC wouldn't have been possible.
Combined with the Hydra unit is an HKS VPC, helping the tC has put down an impressive 271 whp and 280 torque on a Mustang Dyno with the stock clutch slipping. Impressive indeed considering it's still a completely stock motor and stock fuel system. Dynamic Autosports decided to equip the drivetrain with an ACT clutch to ensure every bit of the horsepower would get to the ground. With the new clutch and a bit more tuning, the twin charge setup is anticipated to put down close to 340whp.
With the new body, a custom set of wheels had to be ordered to fill up the wider fenders. Mackin Industries came to the rescue, spending time mixing and matching wheels with the body kit. The final collective decision was a set of 19x9-inch Volk Racing Progressive wheels wrapped with 265/30/19 Falken Azenis tires, giving this tC a real monster of a foot print. Finally. the widebody tC is suspended on TEIN Super Street coilovers and a StopTech big brake kit, ensuring Gojira doesn't have any problems in the stopping department.
Now was the time for Eng and Auto-Tech Interiors to work their magic. As a designer and manufacturer of plastics it was a no-brainer to use their very own triple meter ez-Pod for the tC and their new lineup of STRI gauges. The front seats were replaced with a set of Recaro custom stitched Profi race seats and Takata harnesses, while the finishing touches of the interior were completed with a set of Razo race pedals and shift knob.
From the custom wide body and massive intercooler to the 19-inch Volk Racing wheels, this tC will surely cause American and Japanese enthusiasts alike to stay up late at night staring at the pictures. The graphics are a perfect complement to the Gojira theme and Eng informed us that this might lead to a future team of themed cars. "Gojira is just our first production, we're hoping to bring out a collection of Monster Cars! Maybe one day you'll see a MechaGodzilla or Mothra or Rodan!" Eng is a true Japanese enthusiast, and it shows by his build on this Scion tC. Best of all, the Japanese enthusiasts welcomed the car with open arms. An HKS representative from Japan loved the car so much that he invited Eng out to their facility in Mt. Fuji. The car even received coverage in Japan with an interview with Tarzan Yamada! If this is just the first of many creations, you can bet Modified Magazine will be listening close to Eng and Auto-Tech Interiors future designs.