Nissan "Mobile U" Cube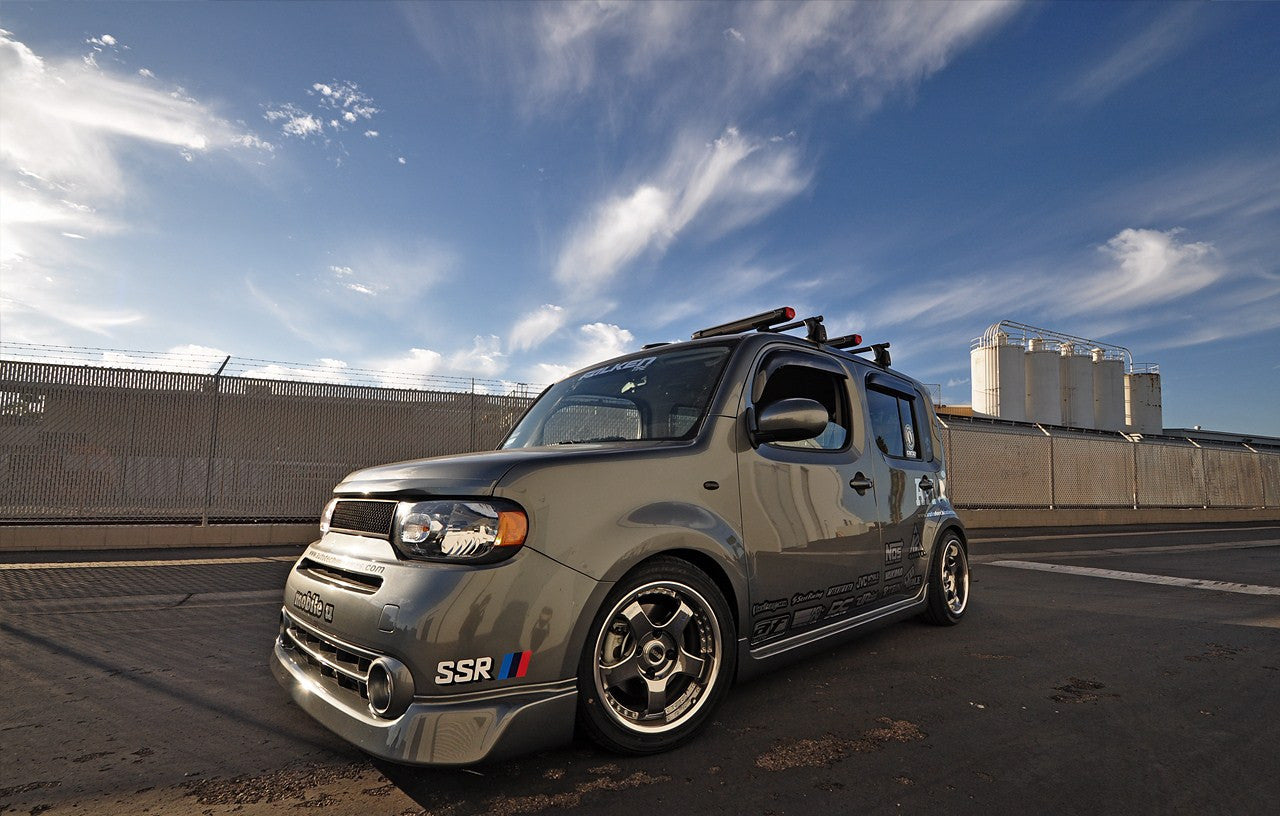 WRITTEN BY DAVE PANKEW || PHOTOS BY ATI
Although it might be considered a controversial notion, Japan built an empire on emulating the inventions of others. Post WWII, they vowed to learn from their opponents and ramped up manufacturing to record levels. While in the beginning, the 'MADE IN JAPAN' stamp was less than desirable, they were constantly improving. After a few short decades the Japanese had definitely arrived, building superior products at fractions of the price. Today, they are leaders in many sectors and have improved upon almost every manufacturing sector.
As the popularity of boxy vehicles continues to grow, it might not be well known how the trend started. It was actually started in the good ol' US of A. Back in the 1980s, the Chevy Astro van made quite an impact in North America amongst both families and tradesmen, but it was really nothing special. However, in Japan the Astro vans were expensive, spacious and luxurious. They were considered a status symbol for many Japanese and some of them were customized beyond belief. Custom Astro vans were credited with importing the shape of the wildly popular Scion xB and the Nissan Cube.
Once Scion established that there was a market for sub-$20,000 hipster boxes, Nissan execs started the process of legalizing it. And since the CUBE has such so much street cred in Japan, it has been an instant success. The crew at Auto Tech Interiors (ATI) in Irvine, CA are responsible for a number of project cars in the past, (such as a twin charged TC for Scion) and knew a CUBE project car would get noticed at the 2009 SEMA Show. "We loved the uniqueness of the Cube," says Marketing Director, Marc Masuda "It was also a challenge to take the car to the next level and get some respect."
Younger generations have embraced the CUBE, but it would be challenge to appeal to a broader audience at SEMA. The ages range from teenage to one-foot-in-the-grave, and the mission for the crew was a projectIMG_2448_opt with wide appeal. "Our goal was to create a project where personalization, was the most important aspect while being budget conscious," says Masuda "That really spans all generations and sub-cultures, so the CUBE fell right into place. Nissan calls the CUBE the "Mobile Device", so we decided to title the ATI CUBE Mobile U. To keep the build fresh and interesting, we wanted to blend industries and got together with Yakima, Ride, K2 and WET Okole and created Cube for the Action Outdoor enthusiasts."
With the idea firmly established, they decided to tackle the exterior of the vehicle. The vehicle was fitted with a genuine Nissan Polyurethane aerokit. The kit was fitted up and color-matched with factory paint. A Nissan roof spoiler was added along with an Agency Power short antenna and Forj Works eyelids. Rounding out the looks are the hyper daytime fogs and an ATI front grille along with some vinyl to give love to the sponsors. The roof is fitted with a Yakima rack for gripping a custom RIDE snowboard and K2 mountain bike.
The rollers are a set of quintessential JDM classics, the SSR Professor SP1Rs. Finished in black chrome, the fat 5-spokes are 16x7-inches and 16x8-inches with low offsets to achieve the desired flushness. The Professors are wrapped in Falken SN211s all around for inherent grip and longevity. The correct stance was dialed in with the effective, yet affordable, TEIN Basic Coilovers found on many street rides today.
Inside is where the ATI products and their technicians took center stage. The mission was to showcase ATI's line of goods that house their exclusive line of gauges. The STRI line has been around for a while, but has recently moved to the higher end of the market with a greater number of features and precision internals for more accurate readings. Onboard are all the necessary gauges including a voltmeter, water temperature and oil temperature housed in custom pods. Regardless of what car you have, ATI has the pod enclosure. STRI has a wide array of gauges including their new X-Line and DSD-Series for any automotive need.
The Essentials
Location: Irvine, CA
Vehicle: 2010 Nissan CUBE
Owner: Auto Tech Interiors

WHEELS & TIRES
SSR Professor SP1 wheels
F: 16x7-inch
R: 16x8-inch
Falken SN211 225/50R16
PERFORMANCE
TEIN Basic coilovers
DC Sport cat back exhaust
EXTERIOR
JDM Nissan Polyurethane aerokit / spoiler
ATI front grille, Foji Works eyelids
Yakima Rack System
INTERIOR
ATI gauge pods,
STRI gauges: (Voltmeter, Water and Oil)
Wet Okole water proof seat covers
AUDIO / MULTIMEDIA
JVC KW NT1 double din head unit
JVC Arsenal 800W Digital power mono amp
JVC Arsenal 10-inch sub
JVC Arsenal 600W 4-channel amp
JVC Arsenal 6.5-inch component speakers
SHOUTOUTS
Auto Fashion, Bean Garage, DC Sport, Falken Tire, Forj Works, J-Prints, JVC Audio, K2, K&N Filters, Nissan, NOS Energy, RIDE Snowboards, SSR Wheels, TEIN, Wet Okole, Yakima, Mathew Law, and Green Bottle / 808 Crew
The focus shifted to the audio install where partners JVC pitched in to help. They began with a JVC KW NT1 double din head unit w/ Navi and Bluetooth to handle the media management. The signals then head to a JVC Arsenal 800W Digital power mono amp which feed a single 10-inch JVC Arsenal sub in the factory Nissan Organizer enclosure. The JVC Arsenal 600W 4-channel amp lights up 6.5-inch JVC Arsenal component speakers mounted front and rear. The end result is a space and weight saving system that definitely drops doom on the equation. ATI made a big splash at SEMA '09 with their expanded booth and new STRI products. The CUBE and their project M3 were also in attendance to draw some attention to their products. And then there was their booth model Corissa Furr, who had a mob of fans following her everywhere she went, which meant only more traffic for ATI.